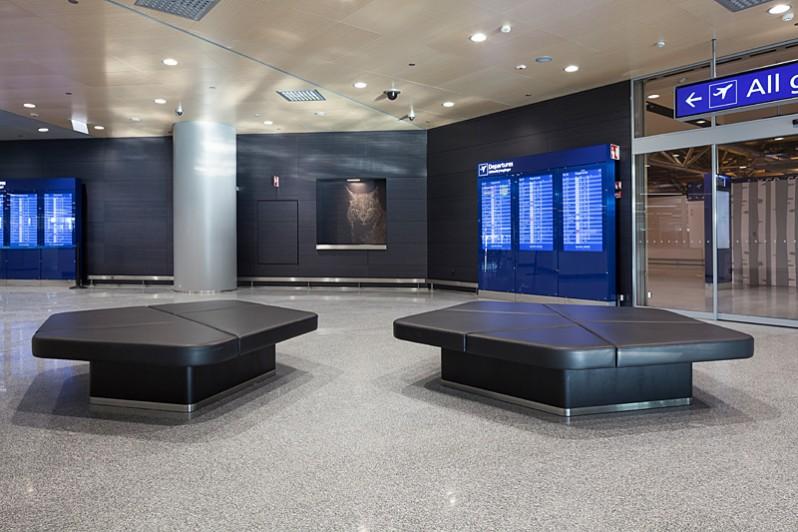 The largest-ever expansion and development project in the history of Helsinki-Vantaa Airport is underway, and Koskisen plays a role in it. The walls of the nature-themed West Pier are lined with perforated panels made from Koskisen's Finnish birch plywood.
Stiffening competition for passengers
According to Finavia, every third passenger selects their connecting flight based on the airport. Smooth logistics, attractive services and short transfer times are increasingly important to both passengers and the airports themselves.

Helsinki-Vantaa Airport, which offers fast and easy connections to Asia, is Northern Europe's leading long-haul airport and an extremely popular transfer hub. Competition between airports is tightening all the time and significant development projects have been launched at several European airports. To stay on top of the competition, Helsinki-Vantaa's operations and services have had to be improved.

Traffic, especially between Asia and Europe, is predicted to grow substantially over the coming years, Finavia reports. The expansion of the section of the terminal serving these long-haul flights, i.e. non-Schengen traffic, and modernisation of the apron are ongoing at Helsinki-Vantaa Airport. The expansion includes four new sections: The South Pier, West Pier, Plaza area and border control. In addition, several new ramps for wide-body and narrow-body aircraft, taxiways and other infrastructure serving air traffic will be built. The walls of the nature-themed West Pier are covered with perforated panels made from Koskisen's birch plywood. For the project Koskisen also produced plywood lamps 3,5 meters in diameter.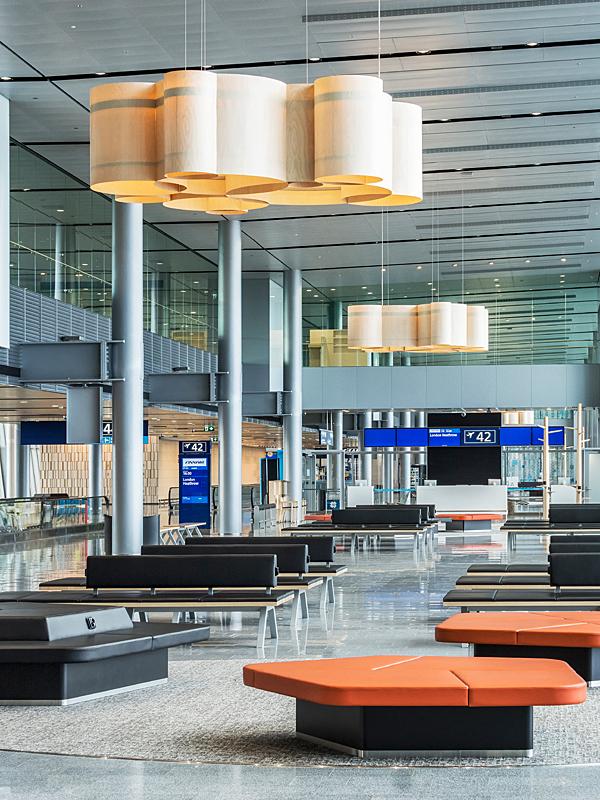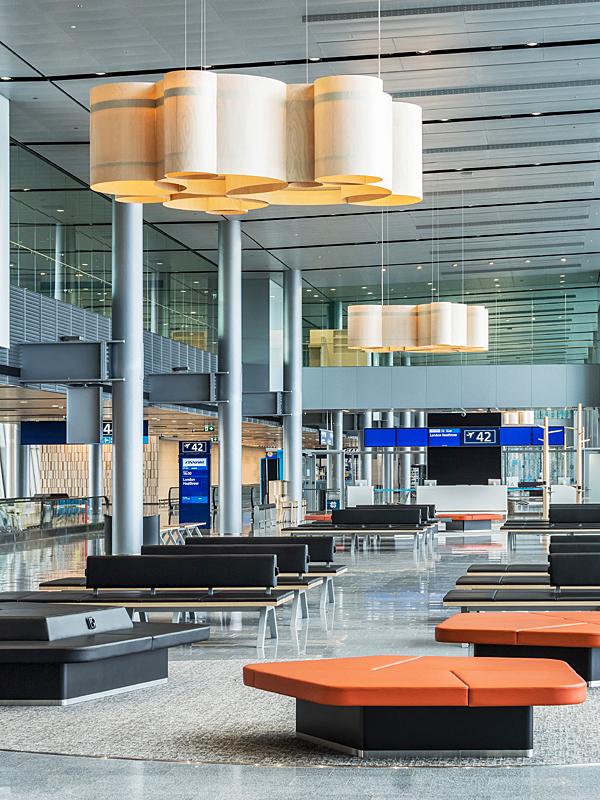 Even at the airport, nature is never far away
PES-Architects Ltd. is responsible for the expansion programme. Kai Lindvall, who is behind the furnishing design, explains that they wanted the same kind of Finnish technical veneer for the West Terminal as in the South Terminal. The overarching theme of the new terminal is Finland's nature and forests which, according to Lindvall who is charge of interior materials and solutions, was approached from a number of angles in order to create an immersive experience for passengers.

"We wished to highlight Finnish nature in a number of ways. The culmination point is the Plaza, which features a 75-metre-long screen. It shows Finnish landscapes in all four seasons. It includes gorgeous light and sound effects, including specialized lighting and sound triggers such as the crunch of snow under shoes," explains Lindvall.

Alongside this feature, Lindvall says that they sought a softer element. "Finavia wanted us to use Finnish raw materials. Wood is one Finnish basic material," says Lindvall. "We ended up using through-coloured birch veneer, which represents more processed Finnish technical veneer, in the West Terminal."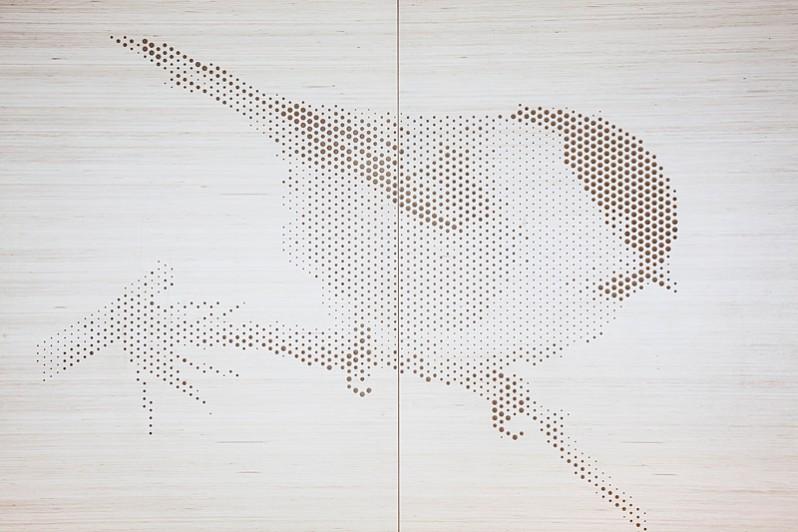 Koskisen's solution holds infinite possibilities
Koskisen had the solution. Tatiana Meyer, who works in the R&D team as Decorative Project Manager, offered perforated birch panels for the terminal. "These panels have so much potential. They are equally suited to creating ambiences," she explains. Meyer's job includes finding solutions for different interior design projects. Helping Meyer in this project was Riitta Ahokas, who works closely in the technical customer services for the interior design projects. They selected the photos of Lassi Rautiainen, an award-winning nature photographer, which create a unique ambience in the terminal.

Meyer says that she began work on the idea in 2017. "I tested Lassi's photos on the perforated birch panels just to see if Finnish nature can be interpreted on Koskisen's plywood panels. I showed Kai the end result and after the presentation he and Tuomas Silvennoinen, the head architect, decided to use this idea of Finnish animals in a Finnish forest, just like on Finnish passports. Finavia also liked the concept," Meyer recalls.

Koskisen's solution was tested, a plan was made, and a test run carried out. "We selected photos and animal motifs together and worked on the theme. Koskisen made models that looked into the depth and intensity of the drilling, for example. On a black panel, for instance, the contrast is strong, while on a lighter one, the effect is achieved using shadow and resin adhesive," says Lindvall. Together they solved the logistical issues resulting from all of the veneer panels needing to be of a uniform colour.
"Nature is an important element of life"
Rautiainen says that he is proud to have his photos represent Finland and a Finnish company. "Nature is an important element of life. I hope people enjoy the new terminal," he says.
The end result can now be viewed in the recently opened West Terminal. As a designer, Lindvall is happy with the results. "We have made sure that passengers enjoy the airport. The end result is high in quality, gorgeous and as Finnish as possible. Koskisen's solution works perfectly in our concept and it was implemented exactly as we hoped. Our collaboration was also successful." Meyer from Koskisen agrees: "We successfully combined different professionals – manufacturer, architect and photographer – and what resulted is beautiful."