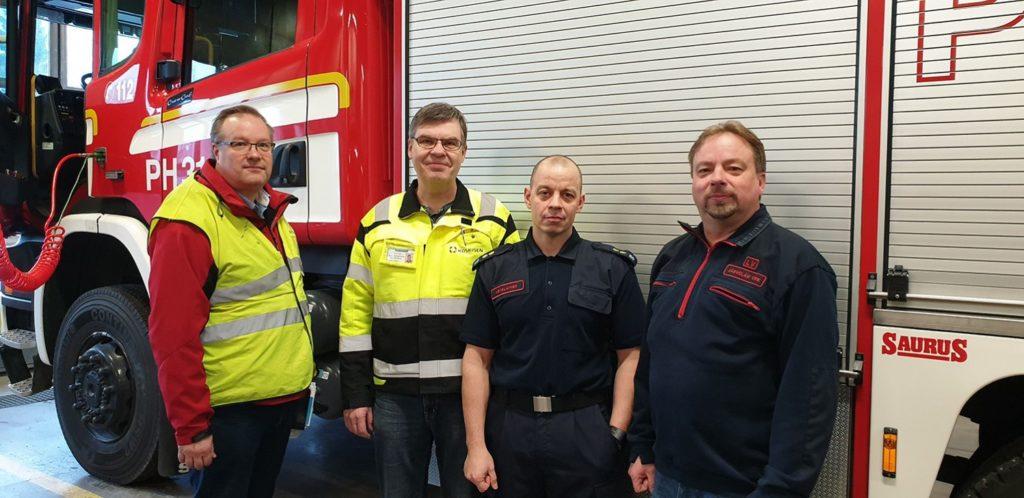 Järvelä's volunteer fire brigade, Järvelän VPK, whose fire station is located near Koskisen's mill area, has been keeping the area safe since 1947. Järvelän VPK is Päijät-Häme rescue services' contractual fire and rescue service and responds to 150 to 200 rescue missions every year. This means every fire, rescue and emergency mission in the Kärkölä area, including those in Koskisen's mill area. The Järvelä volunteer fire brigade also serves as Koskisen's mill fire brigade. The co-operation agreement between the two parties has been in place since 1998.
Drills and real-life situations
Koskisen's own mill fire brigade was decommissioned more than 20 years ago, and the mill no longer had sufficiently trained fire personnel. "We had to rethink safety in the mill area. We contemplated establishing our own fire brigade or starting up external co-operation," recalls Koskisen's fire chief, Tauno Tonteri. "Our current co-operation has been very smooth," says Markku Lähteenmäki, Koskisen's Director of Quality, Safety and Environment.
"There are a lot of high-risk places in the wood-processing industry. Of course, we have extinguishing systems and hand-held extinguishers, but we don't have our own fire brigade or professional know-how or equipment," he says. "Professional expertise is very important, and we only have amateurs," adds Tonteri.
According to their agreement, Järvelän VPK holds regular drills in Koskisen's mill area, usually around 10 or 11 times a year. There are no other places in the Kärkölä area where they can practice, for instance, smoke diving. In addition to conducting drills, Järvelä VPK also trains Koskisen employees.
There have already been a few real-life situations at Koskisen this year – and the fire brigade was quick to arrive on the scene from nearby. "We have help very close to us, so accidents don't have a chance to escalate," says Lähteenmäki.
An emergency alert is sent by text message. "In order to protect people's privacy, the initial message consists only of rough information," says fire chief Leo Virolainen. As soon as they get the message, the contract fire brigade personnel head to the station. "The fire engine must be on the road within five minutes."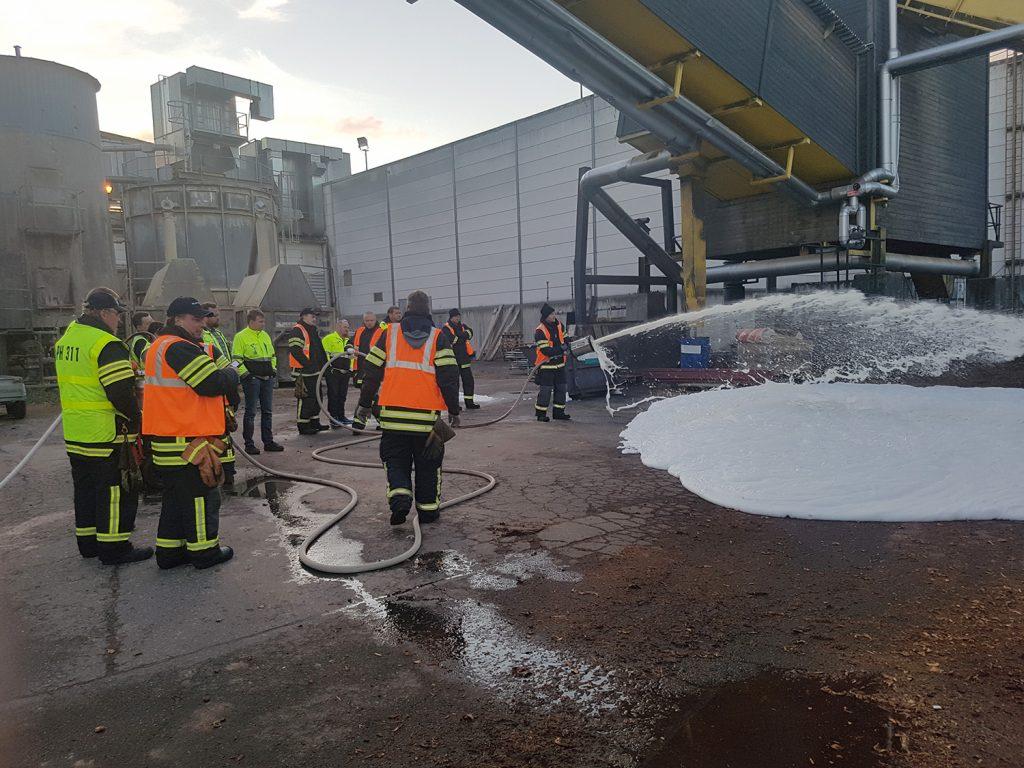 Koskisen employees enhance safety in the Kärkölä area
There are five Koskisen employees in the Järvelä volunteer fire brigade. One of them is deputy fire chief Jyrki Nevalainen, who works in the panel unit. Nevalainen usually makes it to the fire station within minutes of receiving the alert, even when he is working a shift at the mill. It has been agreed with the employer that volunteer fire-fighters can respond to an emergency call if it does not interfere with their own work. "They must also inform their colleagues, so that they know where they disappeared to," Nevalainen points out.
According to him, the inside information of Koskisen's fire-brigade volunteers is useful, as they are able to say where to focus the fire and rescue operations first when they arrive on the scene: "They know, for example, what should be demolished and how it should be done to ensure that no further damage is caused."