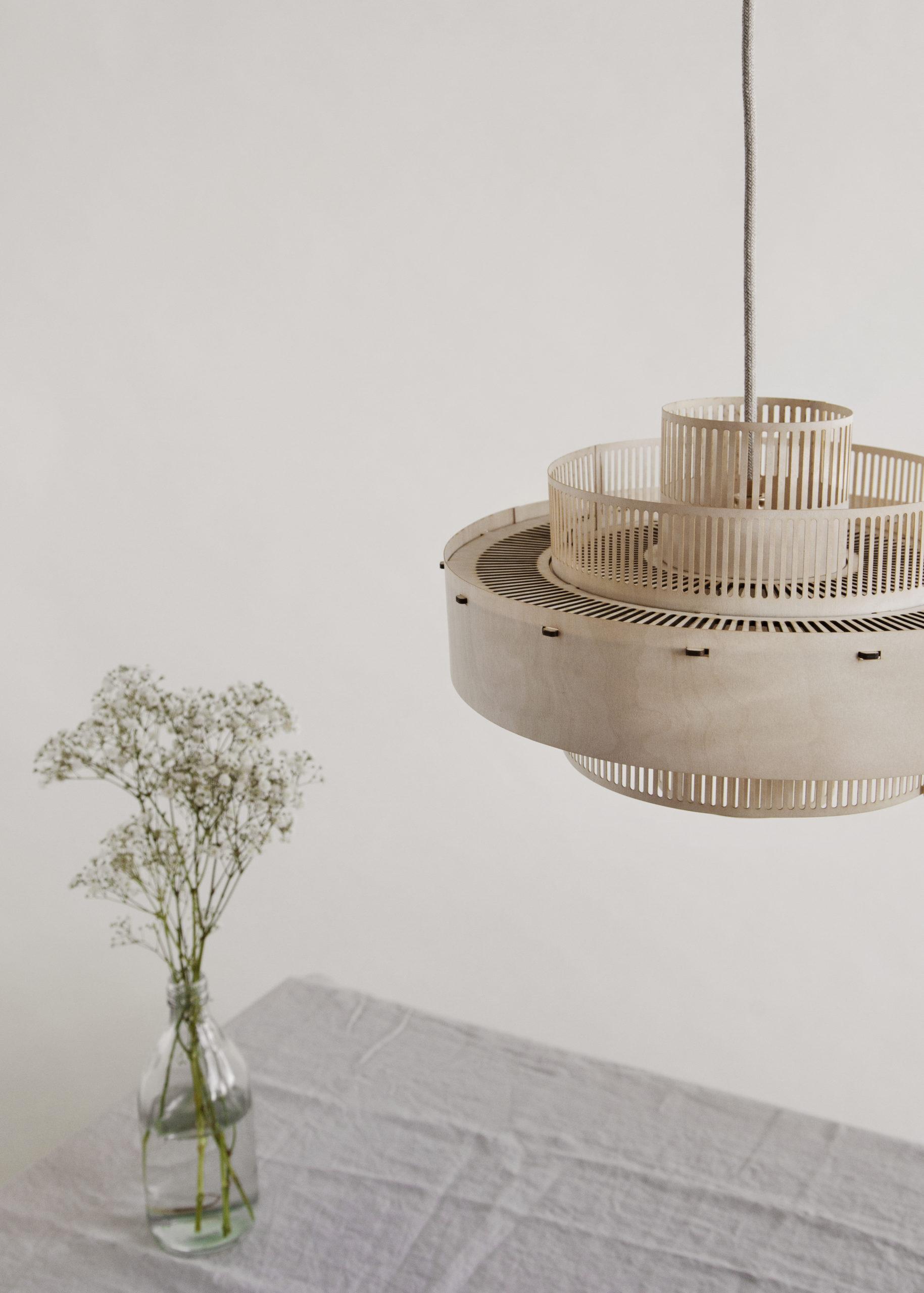 Koskisen's thin plywood is the material for a flat-pack ceiling light shade
Alvari plays with light and shadow
The Alvari light shade, made of thin plywood, was born in autumn 2019 out of designer Maiju Räty's yearning to explore light and shadow, the diverse possibilities of thin plywood, and modern digital machining solutions. 
Dreaming up a wooden light shade
"At the start of the process, I had an idea of the light shade's form and design, but I didn't believe that making it out of wood would be possible," Räty says of the design process.
The idea for the light shade design came from Räty's interest in classic light shade forms and the passage of both light and shadow through the holes in the light shade.
"I looked into a whole number of possible structures during the process, and also thought of different materials, all the way from 3D printing to brass, but in the end I always found myself dreaming of a result in wood," Räty says.
Räty says wood is beautiful, authentic and ecological, as well as a unique solution in this form. The timelessness and ecological friendliness of wood combine to make it a one-of-a-kind material. As a living material, it also gives the design of a product its own interesting twist. There were also practical reasons for choosing wood as the light shade material.
"For example, the 3D printing I'd planned wouldn't have worked in the shape I wanted, and it would have cost a lot. A light shade manufactured that way would not have worked as a flat-pack structure, nor would a 3D-printed material have been as ecological or beautiful as wood," Räty says, explaining her final decision.
Solution: thin veneer plywood
"Fortunately, I heard about Koskisen's KoskiFlex thin plywood and got to thinking whether it would work as a material for my idea," Räty says.
She lasered several cardboard models, calculated, measured and thought about how her light shade could work. Her careful preparations paid off: a prototype of the ceiling light shade in plywood was created almost in one go, greatly helped by cardboard models at the prototyping stage.
"I began to wonder whether the structure would also work for a flat-pack light shade, packaged compactly, which would be both ecological and make the product more interesting. I was a bit surprised myself that it was possible," Räty says.
Räty wanted to make it easy for owners to change the light bulb, which is why an E27-socket LED bulb was chosen as the light source, which also suits the light shade's classic design.
Exciting interplay of form and material
The Alvari light shade uniquely combines timeless design, a sensitive timber material and modern machining methods. The Alvari suits both domestic and public environments, bathing spaces in beautiful light and shadow, just as Räty originally planned.
"As a wooden material, Koskisen's thin plywood is very timeless and beautiful, and the patterns of the grain are exceptionally visible in the light shade. For me, the fact that the material is responsibly produced Finnish birch plywood is very important, too. In particular, I'm positively surprised by how pliable and durable KoskiFlex thin plywood is," Räty says. Products made from KoskiFlex can also be manufactured flat-pack.
The Alvari range extends to table and floor lamps, which are also sold flat-pack. The lamp bases are powder-painted steel at this stage of the prototyping, but Räty is also developing wooden versions for them. A translucent white colour for the Alvari is also under consideration, and the light shade can be scaled to different sizes.