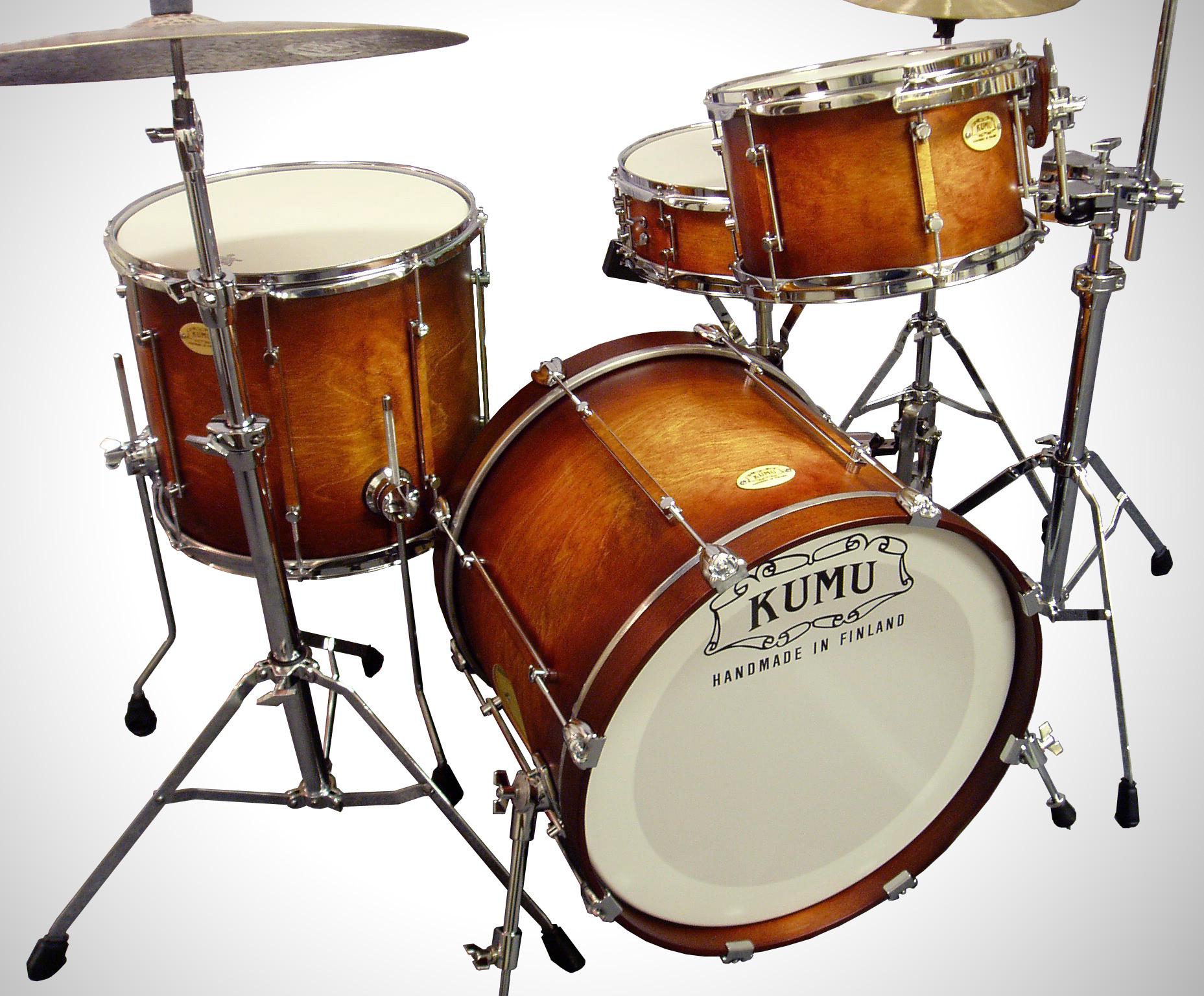 Finnish birch is played around the world: Kumu Drums trusts Koskisen's thin plywood
Pekka Helanen, an instrument maker and musician from Hämeenlinna, Finland, built his first drum set in woodwork class in primary school. That was the beginning of an enthusiasm for music and handicrafts which turned him from an amateur into a musician and instrument maker.
Today, Helanen's handcrafted Kumu drums are played the world over, and their birch parts are made of bespoke thin plywood manufactured by Koskisen.
Handcrafted instruments for quality-conscious customers
Kumu Drums, founded in 1984, handcrafts top-class drums. The family business's quality-conscious customers include professional musicians, studios, music institutes, bands and discerning amateurs.
Drums made by Kumu have a unique sound, and their design, replete with carefully considered details, is instantly recognizable.
Helanen says, "You can recognize a Kumu drum a mile off. I've always tried to include distinct details in each Kumu drum so people can tell instantly that they're looking at a Kumu."
300 drums annually
Kumu Drums crafts every drum to order and by hand in the colour and with the finish the customer has asked for. The owner's name is inscribed on the inside and the drum is made to the customer's desired dimensions.
Kumu Drums makes around 300 drums a year. The company's largest market is Finland, but it also has customers worldwide. In Nordic terms, Helanen is an unusual kind of drum maker, as he makes the shells himself.
"We have customers all over the world. The internet constantly makes sales and marketing easier. We've been to trade fairs in the US, the UK and Germany," Helanen says.
Finnish birch is worth a special mention
Pekka Helanen and Kumu Drums trust Finnish birch. Koskisen provides it in the form of bespoke thin plywood to the company.
"Birch has been a genuinely appreciated drum material for decades," Helanen says. "Particularly Finnish birch, as it grows suitably slowly, is the right density, and its sound qualities are really good and work in a drum. Birch combines strength and hardness in the right proportions. What's more, as a light wood it displays the colours applied to it faithfully. Finnish birch is worth a special mention."
Drums for life for faithful customers
There is demand for the high-class Kumu drums in Finland and abroad, and the feedback has been exclusively positive.
"People have always highly appreciated handcrafted instruments and will continue to do so," Helanen says when commenting on the future. He does not predict any great changes to the drums.
"An acoustic drum is what it is. You can't make any great innovations to it, but small things are being developed all the time, of course. We manufacture amazing quality and instruments for musicians. You could say they are drums for life, even though many of our customers have bought several drums," Helanen says.
"We can of course make more specialized products, if we have the ideas for them. Some thoughts can end up leading to big things," Helanen says.
Birch provided by Koskisen sounds all over the world
The drum's wooden shell is of great significance for the sound the drum produces. Helanen has developed his own drum shell structure, one which is based on Finnish birch plywood and distinct from other manufacturers' structures.
His company started cooperating with Koskisen in 2008. That is when Koskisen started supplying Kumu Drums with birch thin plywood and veneers. A handcrafted instrument calls for an equally valuable material, and Koskisen has been able to meet Kumu Drums' quality requirements.
"Koskisen have good quality criteria. I don't order huge quantities of materials, but Koskisen has been able to take my wishes on board and supply the products I need nimbly."
Helanen is grateful for Koskisen's ability to listen to a small business owner, adapt and take his preferences into account. "That's important in a global world where everything is so big."