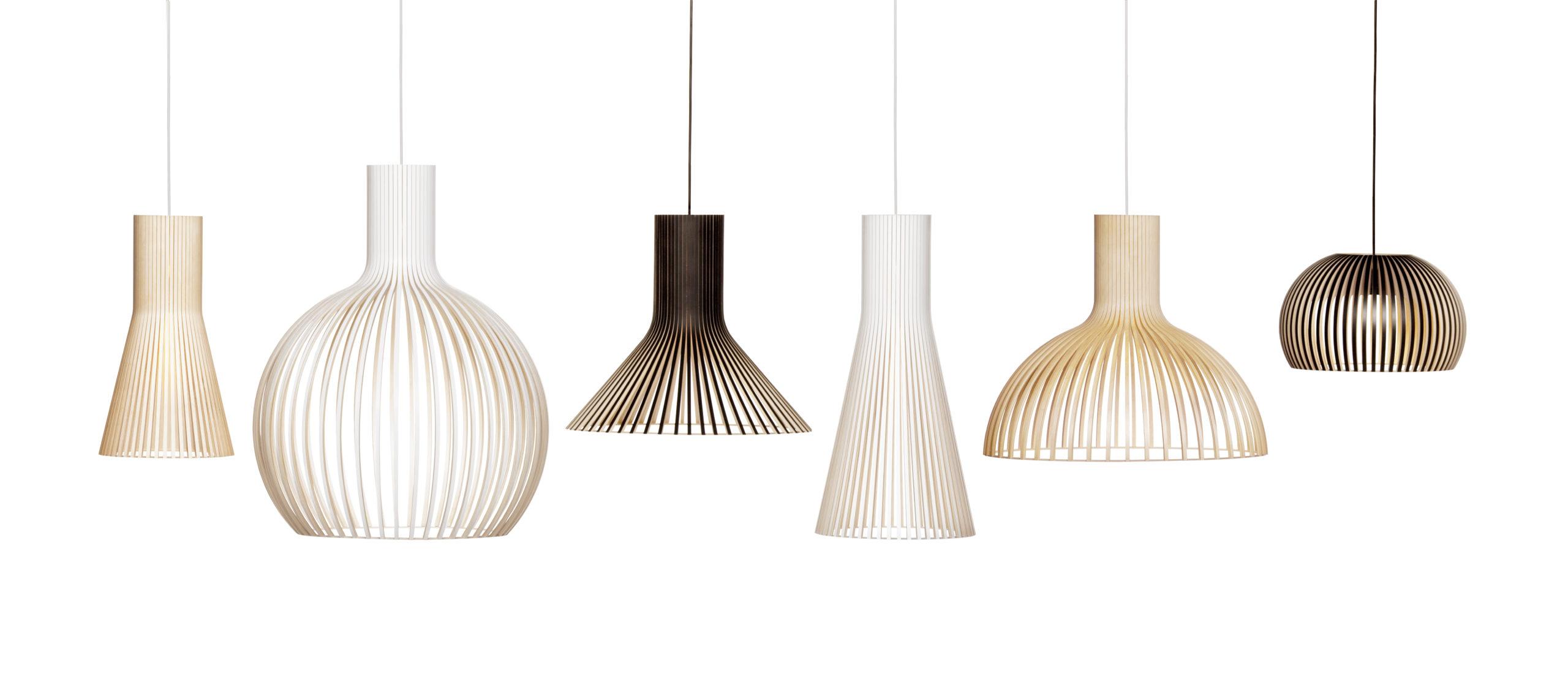 Innovative wood use: Secto Design
Secto Design uses Koskisen's thin plywood in its popular lamps. Innovative lamps are skilfully handcrafted from Finnish birch. Their natural wooden surface makes the light they cast warm and inviting. Architect Seppo Koho, the designer of the lamps, has created a softly filtering light which invites rather than blinds.
Unique lamp to customers' wishes
In 1995 Tuula Jusélius was recruiting a designer for Secto Design, which primarily makes furniture from laminated veneer lumber. The company hired Seppo Koho, who, Jusélius noticed, shared her appreciation for Nordic timber, uncluttered design and professional woodworking.
The Secto pendant lamp designed by Koho was created when customers expressed their desire for a wooden lamp which the market could not yet offer. This pendant lamp is still the backbone of the product range. Secto Design lamps underscore the look of the space and location, giving them a unique mood and intimacy.
The company started doing business with Koskisen about 15 years ago. Koskisen supplies materials to Secto Design: thin plywood and veneers for the suppliers of the component slats.
"Our blanks are quite large. The material must be chosen carefully, because we want to get the right amount of sufficiently high-quality veneers for the form-pressed products. It's far from every supplier that offers them," Jusélius says.
Finnish birch brings lamp to life
Jusélius says that birch was initially chosen for its light colour. Secto Design is also strongly and clearly focused on Finnishness: the company wants to be Finnish in as many aspects as possible.
"If we used a darker wood, it wouldn't reflect the light in the same way. We also have our own tradition and knowledge, so we dare to use birch. What's more, we knew how applicable birch was even for more challenging bent wood projects. They work with birch, but we couldn't be sure with other types of wood," Jusélius says.
People place the lamps in visible locations in their homes, meaning any error would be clearly visible. Only first-class, flawless thin plywood is used in Secto Design's lamps. Koskisen has provided Secto Design with quality and service that match the company's needs and quality requirements. The veneer may not contain any visible knots. Each slat must consist entirely of knot-free lumber.
"We place great importance on getting consistently high-quality birch veneer and thin plywood, and that the deliveries are reliable. We have to get the goods when we need them," Jusélius says. "We have a good relationship with our contact people, and they know our needs. It's a pleasure to work with them. Koskisen also delivers from a sensible logistical distance. They bring us our products from within a 200 km radius."
Environment must be considered
Jusélius says that her company has considered the environment from a very early stage, including when choosing materials. Its customers are also interested in the materials' origin. The company has been able to trust the material supplied by Koskisen.
"The environment has always been highly important for us and our customers. We've tried to take it into account in everything we do. Right from the start we've served companies with strict environmental requirements," Jusélius says.
Handcrafting demands time and effort
Jusélius says that Secto Design is already a very well-known brand in Finland and the Nordic countries. However, it has only scratched the surface when it comes to the global market.
"We see growth potential in the long run and we want to grow, but we want to do so in a controlled way. We make each lamp by hand — we can't switch to mass production," Jusélius says.