Despite the emergency situation caused by the coronavirus, everyday life at Koskisen production plants is still close to normal. Logs are being bought to be sawn at the sawmill and peeled at the plywood mill. The chips from the process are used to manufacture chipboard, which is currently in high demand – people now have time for home improvement.
Customers worldwide are still ordering sawn timber, plywood and chipboard, although the prolonged uncertainty in the markets is starting to make its mark on the development of the order book. We hope that, in addition to the easing announced in the past few days, restrictions could be relaxed further in Europe, Asia and Koskisen's other key market areas alike.
Eighty per cent of Koskisen's personnel work at the mills, and the products cannot be manufactured remotely. Production has largely been running as usual, with the only difference being that careful attention is paid to preventing infection and increasing the safety distance. Close contact with colleagues is avoided. While people still greet one another with a smile, they talk less often face-to-face.
"At Koskisen we started preparing for the coronavirus well in advance at the end of February, immediately after the Confederation of Finnish Industries EK recommended it. That gave us a good head start," says Minna Luomalahti, Koskisen's HR and Communications Director.

The entire personnel have been very active and innovative in finding means to reduce the risk of infection during the workday. Enhancing cleaning, dividing shared control rooms into separate spaces, staggering shift changes and breaks, communicating electronically during shift changes – these are just a few examples of the creative and successful solutions that have been adopted.
"All this guarantees a safe work environment for personnel and deliveries to customers to keep the wheels of society turning. And by common agreement nobody comes to work sick," Luomalahti says, adding that, thanks to a good hygiene level, the number of absences from work has been lower than normal since the beginning of April.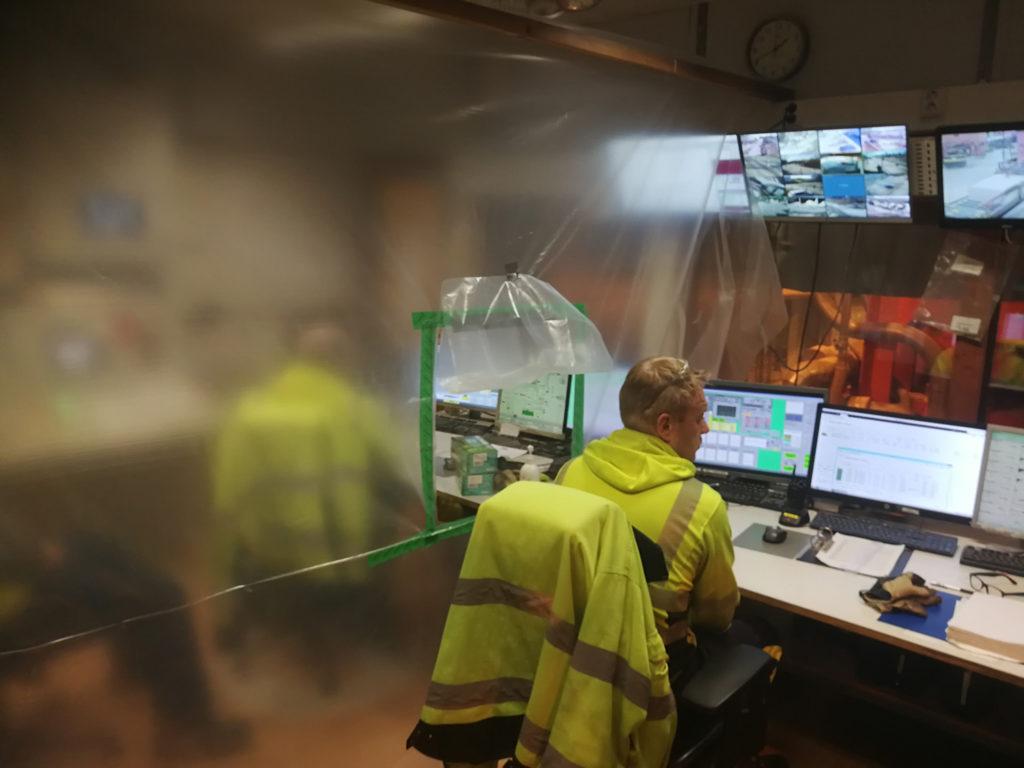 High demand for wood products worldwide
Softwood sawing, plywood and chipboard manufacture at the Järvelä mills and the production of thin plywood at the Hirvensalmi mill have been running very well, sometimes to a point of nearing all-time production records.
"After the February strike, it was important that we managed to turn the company's result upward, thus securing future investments and the development of the company," says CEO Jukka Pahta.
"We still have work, but the order intake has declined. We are, of course, keeping a very close eye on the order book both daily and weekly. For the time being, operations will continue as planned, and there has been no need to plan for temporary lay-offs yet. If the situation changes, we will react accordingly," Pahta says.
In an ever-evolving situation, Koskisen's sales personnel are in daily contact with customers to hear their latest news and to know whether their production is running and how they are coping.
"Once the markets show the first positive signs, customers will want to have their products as soon as possible, which can lead to long delivery times. Close co-operation with customers is important especially now when it is quieter, so that our salespersons can make sure that our customers' stocks are in order when the situation starts to normalise."
Seventy summer workers to be hired
This year again, Koskisen will hire a high number of summer workers: 70 people will be needed for fire watch duties during the repair work carried out in summer and for shutdown work. The interviews with summer workers have already been started, also requiring some special arrangements.
"The interviews are easy to conduct in a large conference room, respecting the required safety distance. And one interview also took place via Teams," says Panel Industry's Process Manager Saija Korpela, who interviewed the future summer workers.
"This year, due to the restrictions concerning visits to our mills, we could not organise the mill tour normally included in the interview, but luckily, good presentations of Koskisen's production plants can be found on YouTube and the young people had already watched them beforehand," Korpela says.
Summer workers' mill orientation will also be conducted through special arrangements, with a special focus on reviewing the coronavirus instructions and on keeping a sufficient safety distance. Hearing protection with radio will be worn during the orientation sessions, enabling the participants to keep a safe distance.
At Koskisen mills, summer workers have a great opportunity to get to know the many sides of the wood industry. The renewable and strong raw material that grows in Finnish forests and the products manufactured from it are in high demand worldwide.